How to Buy Carpeting
Carpet has warmed rooms for thousands of years, and still today, in the face of many newer flooring options, carpet remains a popular choice. Carpet is fabricated from natural or man-made fibers and is permanently affixed to the floor, unlike rugs which may easily be moved. Traditional carpet-making techniques included woven, knotted, and hooked -- all of which are time-consuming to produce, and therefore, expensive. The cost of manufacturing modern carpets has been greatly reduced by the invention of machines that inject the pile into a backing rather than weaving the material by hand.
Types of Carpeting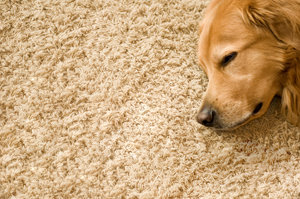 Carpets come in all colors with short, medium and tall piles attached to a backing. The pile may be looped, as in Berber carpeting, or cut to varying lengths. Carpeting is laid atop a padding that provides a more comfortable walking surface. The most common natural material used in the production of carpet is wool. Man-made materials -- manufactured from petroleum products -- include polypropylene, nylon, polymers, and polyester. Carpets come in rolls with widths of 12 or 15 feet. Carpet tiles are also available and are popular for their ease of repair as individual squares can be replaced if damaged. The cost of carpet depends on the raw material it is made from (it is affected by world oil prices) as well as the quality of the finished product.
Warranties
Manufacturers' warranties vary greatly based on the quality of the flooring material purchased. Coverage may be from five to twenty years against manufacturing defects which do not cover any problems arising from the installation of the carpet. Warranties usually cover the carpet fibers against wear, although wear is extremely rare in nylon carpets. Some brands, such as DuPont's Stainmaster®, also provide a warranty against certain, specific stains. Professional carpet installers may provide additional warranties covering their work, so homeowners should check on the details prior to signing a contract.
Advantages of Carpets
Carpet adds instant warmth to a room, is available in a variety of styles and colors, and can suit practically every budget. It also provides sound insulation and -- with underpadding -- provides a comfortable surface to stand and walk on. A floor that is less than smooth will appear more regular if a carpet is laid over it.
Places to Buy Carpet Near Me
Use this map to find places to buy carpet in your area.
Common Problems
High-traffic areas covered in carpeting may see fading, rippling, and crushing of the pile. Depending on the type of carpeting selected, some stains and discoloration may occur. Cheaper products sometimes fade easily and may have a short lifespan. Carpets attract and trap dirt, grit, and dust which can be a serious problem for allergy and asthma sufferers. A thorough cleaning is required twice a year or so to prevent embedded grit from tearing at the fibers. Static electricity is a common problem with carpets especially during dry winters. Poorly installed carpets may buckle and seams may separate.
Environmental Considerations
Carpeting is not considered the most environmentally-friendly flooring choice. Made of non-renewable petroleum products, carpet uses a lot of energy in its manufacture and is sent to landfills at a rate of nearly 5 billion pounds a year. Off-gassing of fumes -- with varying levels of emissions and toxicity -- from the carpet, the padding, and the adhesives also affect in-home air quality.
Carpets made of natural products such as wool, cotton, and grasses offer a better alternative because they are made from renewable resources that do not have the off-gassing concerns of synthetic carpets. Environmental awareness has led to increased use of natural products in the manufacture of carpeting, and formaldehyde-free glues are becoming more common.
Popular Brands
You can also find consumer reviews of many brands of carpeting here.