How to Buy Tile Flooring
Read tile flooring reviews.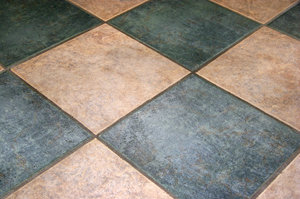 The popularity of tile flooring continues unabated as its versatility offers such a broad range of choices in design, materials, colors, and styles. Tile flooring is made of ceramic, stone or porcelain with modern additions such as glass bringing a whole new look to an ancient floor covering.
Floor tiles are manufactured or shaped in squares of between 6x6 and 24x24 inches and sold in cases that will cover between 9 and 15 square feet. Prices vary greatly based on the materials used, but generally, they start at approximately $3 a square foot and can easily climb to $30 a square foot for high-end tiles plus the cost of installation.
Types of Tile Flooring
Ceramic tiles are made of clay shaped into squares, dried to remove moisture, glazed to give a finished look, and finally kiln dried. The process and use of ceramic for tile flooring has changed little in thousands of years, although modern technology has made manufacturing them less labor intensive, so they are now cheaper to purchase than in the past.
Natural stone tiles are available in slate and granite and are less uniform than ceramic in their coloring and patterns. Slate is a sedimentary rock and is usually grey although purples, greens or pinks are also available. The stone is split so that the thickness of the tile varies slightly. Granite tiles are cut evenly and polished on the side facing up. A variety of colors and hues are available in pinks, grays, and blacks.
Glass and recycled glass are being used more as homeowners enjoy the clean and simple look of this material. Advancements in technology during the past twenty years coupled with environmental concerns have led to a new interest in using recycled glass for kitchen and bathroom tiles.
Warranties on Tile Flooring
Manufacturers of tile flooring may provide warranties that cover defects in the manufacturing process but not the labor involved in installation, finishing or maintenance of the product. Warranties may also cover fading and staining of ceramic flooring, for example, for 10 to 25 years. Material warranties are often non-transferable and may apply only to the original purchaser of the floor and not to future owners of the home.
Qualified flooring contractors usually provide warranties to cover any problems arising from the installation of the materials, and homeowners should check on this important detail prior to signing a contract. These warranties are usually limited to one year and will likely exclude a number of damaging conditions such as flood and fire.
Advantages of Tile Flooring
Durability and ease of maintenance make tile flooring one of the most popular flooring choices, especially in high-traffic and moisture areas such as kitchens, bathrooms, and laundry rooms. The range of colors, styles, and materials available means there are floor tiles to fit every budget and decorating preference. Other advantages include: ease of installation which makes tile accessible to many a do-it-yourselfer, ease of repair by replacing just a few affected tiles, and fire resistance.
Where to Buy Tile Flooring Near Me
Use this map to find where you can buy tile flooring near you.
Common Problems
Tiles will crack and the grout may dry up and pop out -- often due to heavy furnishings or sudden impact. Poor installation may lead to tile separating from the mounting surface, especially on concrete slabs. Other problems that often occur are not due to the material used but by the camouflage characteristics of tiles: moisture or even water may be present behind or under the tile which, with time, will negatively affect the sealant, the grout, and even the tile.
Popular Tile Flooring Brands
Armstrong
Brutus
Dal-Tile
Home Legend
Jeffrey Court
MARAZZI
Marshalltown
Merola Tile
MK Diamond
MS International
Solistone
US Ceramic Tile
You may also find it helpful to read consumer reviews of tile flooring.